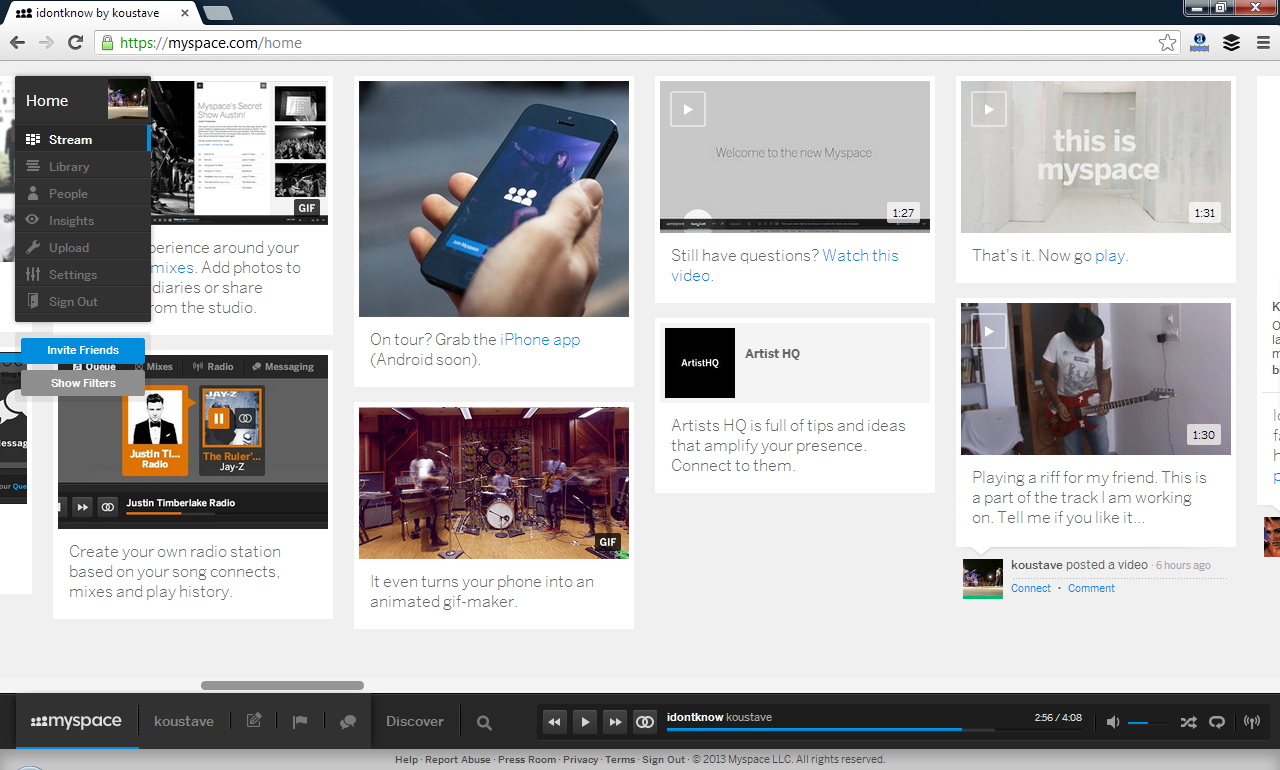 In 2010-2011, Social Media watchdogs had written off Myspace. This first generation social network that began as a meeting point for musicians, music lovers and all sorts of hipsters met with an unexpected end when Facebook took over the world. We all believed that like Orkut or Hi5, Myspace was on its way to a sad demise. However Myspace still had a little bit of fight left in it. This is year 2013 and Myspace is back in the news as it is getting re-launched with a 20 Million Dollar campaign, loads of new features and completely overhauled look.
We are no fans of high expectations and we believe that Myspace still has to go long way to prove its worth since if it went down once, it can go down again! But personally being a musician myself, I can't stop but rejoice. There are a few things about Myspace that makes it a league apart from all others.
1. It is all about Music: Myspace is a great place for music lovers, independent musicians and musical stars alike. I have always felt cozy here interacting with so many creative people on Myspace and it's a great place for fans to reach out to their favourite musicians. Although the industry spoke of Myspace with disappointment, many known musicians continued to use it to release samples of their tracks. The biggest advantage of Myspace over Facebook for musicians is that it is focused on music. Whether the new Myspace will impress the Music Industry, remains to be seen.
2. Predominantly Audio: Unlike Youtube or Vimeo, Myspace is more about listeners than watchers. In a way you could be using Myspace while doing other stuff, much like an internet radio. The audio streaming is good and the quality of uploaded tracks is surprising since musicians really work hard to make their stuff stand out. No doubt we are in an era of in-numerous internet radio channels and mobile MP3 apps but syndicated content channels or apps don't really match up to the wide choice of music available on Myspace.
3. Its more networking too: You might be wondering what new Myspace can offer. We already have such things as Reverbnation and Grooveshark, but Myspace is Myspace! Even Spotify focuses more on leisurely listening than active interaction. On Myspace, a musician can expect to gather more than just fans. One can actually interact more with fellow music lovers and musicians on Myspace and get a feeling of closeness. This helps create a unique first person bond between musicians and their fans. It lets rising musicians to reach out to their patrons and possible industry connections who can help furthering their careers. Maybe talent scouts will return to this platform and we will see the next Justin Biebers coming out of Myspace.
4. Simplicity: If you are not a total music junkie and a musician yourself then you might not have much to do on platforms like Soundcloud. That's where Myspace scores. It is simple to use and is meant for all. Still you need at least some inclination towards music. The new user interface for Myspace doesn't fail to maintain the simplicity. Its horizontal scrolling is a unique approach. Let's see if the trend catches up.
Here's a peek into the new Myspace profile and features in a quick video:

Myspace first look from Organic Social on Vimeo.
There's a refrain though. We don't live in the 90s anymore. Apparently people have got hell lot busier with their lives in the past decade. Experimenting with music doesn't figure much in their priorities beyond weekend party playlists or commercial music platforms. Correct me if I am wrong, but the kind of engagement Myspace must be expecting from its users may be but only a dream. Music Industry has matured manifold and people have found new ways to merge music sales with other modes of entertainment. The consumption of music has changed drastically and independent musicians no longer see Myspace with the same hope and enthusiasm as they once did.