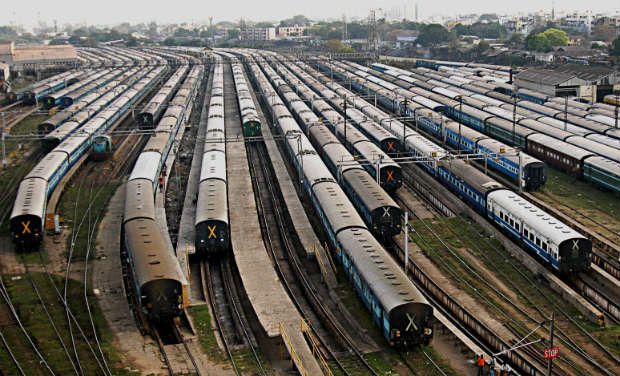 One Step toward social media enabled country
Governments over the world have invariably moved towards technology adoption and India is no different. Although this article refers exclusively to Indian context yet the basic idea is to promote efficient implementation of digital media in public sector anywhere in the world. India being a developing country has some advantages when it comes to observing and learning from other more developed countries but the sheer population, social diversity and completely unique cultural aspects make it quite challenging to really tap the potential. Indian Railways almost certainly best represents that challenge as it is very large and complex in terms of both the organization and it's operations. To truly take a step forward in defining India as a technocratic nation, an organization of the scale of Indian Railways must successfully make use of modern mass communication technologies. The early efforts of which are seen in the launching of a National Train Enquiry System (NTES) and a so called social networking app that will help Facebook and Twitter user find information on train schedules etc. besides expanding Indian Railway's presence on social networks in the light of bad reputation management in matters such as rail accidents and disasters.
Why everyone's adopting social media?
Revolutionary developments in social media network and growth in smartphone users have dramatically increased expectations of transit passengers regarding the travel information they receive. With 27 million smartphone users In India now and with high connectivity through internet tools and social media, providing consistent, web based communication applications are now basic expectations by people.
With ridership on India transit growing, the opportunity to improve people's satisfaction through increased social media communication through all channels such as smartphone applications, websites, social media network and digital signage is unprecedented. To take full advantage of this, the government transit agencies must figure out the good strategies, systems and devices to provide real-time information, accurate, through multiple communication applications and tools and across railway ecosystem.
Advantages of using social media in Railway System
Feedback – The quintessential utility of social networks is in finding public opinion and grievances. An active machinery is required to collect, collate and concentrate on feedback.
Close Circuited System – Social network creates a loop of information that can be monitored through proper crowd-sourcing. Real users, real problems and real solutions.
Disclosure and dissemination – Social media removes the need of expensive media dissemination and disclosure requirements. Although there's time for a majority of India to access social media widely.
Tourism and campaigns – Educated and media savvy tourists can surely connect better through social media. Advertising campaigns can be more effective.
Public handling – Social media can help reduce the load on the bookings windows. Public can be managed well in situations of emergencies. It can also empower the Railway Police.
There can be many more such benefits of social media if you come to  think of it.
Better Railway System + Social Media Network = Growth in Tourism
The Indian Railways is ready to launch six new tourism circuits in India and planning promote them on social media network all over the world to boost up tourism. As India is a spiritual country, therefore new circuits have focus on spiritual tourism such as Devi Circuit, Jyotirling Circuit, Sikh Circuit, Sufi Circuit, Christian Circuit and Buddhist Circuit. It will help a lot to foreign travelers as well as local people to reach their destination easily. Don't forget "Palace on wheels", which is to be oldest luxury train in world and still a charm.
How can Social Network really be helpful in Tourism?
Page and Profile : There should be a proper Facebook page as well as Twitter profile which railway can used to provide basic information about Railways System.
Share Experience : People should be allowed to share their experience about their journey such as their valuable experience, Photos and videos. So, others can also know about it. Government officials can make use of Twitter #hashtag i.e #RAILEXP(Railway Experience).
Deals and Offers : Providing offers for daily travelers can encourage local people to prefer train rather than their own vehicle. There could be discounted prices for foreign travelers for less visited or popular areas within country.
One Card One Solution : Just like Metro System, There could be one card by which foreign travelers can travel in whole country without any hassle of buying tickets at every station.
Apps : It will be good if people can know about the railways routes, schedule and even book tickets by just sitting over Facebook, twitter or with any app
Promoting all these option on social media can attract people all over the world for having a visit in India.
Though using social media is free but using all its resources still needs a lot of tech knowledge. Talking about Indian system, it still needs many changes from its ground to top level. Announcing use of social media in railways system is not an easy task. Railways will have to set up IT/Customer care facilities for it (bringing in more young talent) which work solely for updating people with all type of information and managing apps. Let's see how far Indian Railways System can make it with social media Network.