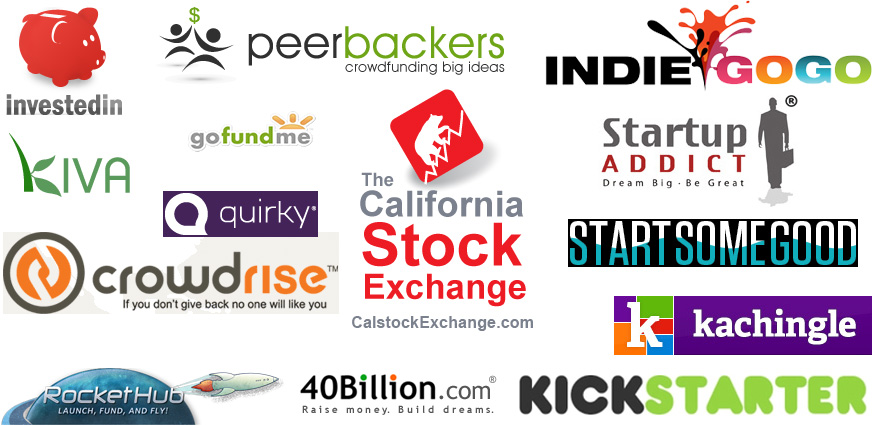 You've got an excellent business plan, however your bank lacks your vision. As traditional ways to receive funding and grants are laced with paperwork, risk mitigation issues and all over lack of trust, creative folks are coming up with new ways to raise bucks. Social market is changing more rapidly than financing market. Today the needs of entrepreneurs require to be met immediately. How can that happen effectively? The answer is crowdfunding.  It's changing the ways people invest in enterprises. Crowdfunding is a popular new buzzword for raising money from individual backers online for funding your plans. Although, successful crowdfunding needs a significant amount of time with lots of efforts in the right direction, it can only work well if you have wide online base of fans, followers and friends that you are going to ask for money. A crowdfunding campaign is basically a 'drama' with its different acts.
You have to put your heart and soul into your project believing in your project.
From launching the campaign to pursuing your contributors, crowdfunding needs meticulous planning to make it a success.
A lot of PR and blogger outreach is required to represent your goals perfectly.
There are set up costs and revenue sharing terms and conditions to look out for.
Of course all the concerns are taken care of by a little thorough planning but eventually there's always a possibility that your campaign fails to attract funding. Thus, it is an art after all. You need to balance the expectations perfectly to get the people really excited. A Crowdfunding campaign that didn't work for the first time can still have another shot but for taking than chance major brainstorming and radicalization is necessary.
What are the ingredients of a crowdfunding campaign?
#1: Choose the right crowdfunding site-: Ever since the startup marketplaces exploded, there have been a flood of crowdfunding websites. Many crowdfunding websites shut down operations within a short period due to various reasons. Government regulations being one of them. Still a lot of platforms are still working but you should know that each targets to a specific audience Such as Kickstarter or IndieGoGo for creative ones, Fundable for business related purposes, Buzzbnk or Kiva for social causes and  AppBackr  for mobile app businesses. So choose your platform wisely.
#2: Know your target audience(s)-: All the successful projects on crowdfunding websites target a particular audience. The target audience might be focused in a location, religious and share a common background. Some Graphic novels and instrumental music do well, too. If your product is local then try connecting with local backers physically to determine the potential of your campaign. Do blind surveys and dipstick studies before going out seeking funding.
#3: Prepare for First impression: – You got only one chance to attract contributor for your campaign. So your approach should be creative one. If you are not confident about your product or think that the idea is a bit premature, refrain from the urge to start a crowdfunding campaign. It can wait. However, if you make a hasty decision and end up getting neglected by the backers once, it will become a habit.
#4: Maintain complete Transparency-: No matter how cool your idea is, most people want to know that you've got a plan that will get you there. You should properly describe how exactly you'll be using their money and try to keep everything transparent. This will build trust in you and increase credibility in your project.
#5: Co-create :- If you think that you are going to make an offer the backers can't refuse then you are wrong! Instead think of a way to involve them in co-creating the final product. Make their contributions worthwhile so that they feel they have a role in making the difference you're trying to create.
#5: Break up bigger projects-: Break your big campaign into small ones as smaller requests seem more genuine and are instantly heard.
Critical factors of crowdfunding success-:
Great idea : Crowdfunding is all about a unique idea which can help in getting several small donations which later on become a huge amount. There are always some people who are interested in investing or motivating new ideas or plans into society. So you should be wise enough to trigger that part of backer's emotion very well.
Definite returns for a backer : Its will be good if you provide a proper incentive to your contributors, it can be like thank you gifts such as wrist bands or gift card etc. but try to be more imaginative and share a part of actual results.
Good marketing with Social Media : Crowdfunding always begins with your friends or co-workers, family and existing fan base. Ask them to contribute as much they can! Please use the websites to share your project details with the people around the world with social media websites like Facebook, Twitter or Google +. While your campaign is running, it's a good idea to post updates daily. Whether you are on Facebook, Twitter or any other Social media website, it's will benefit to be active and communicate with your contributors.
Focus : It is of paramount importance that you do not loose the core purpose of crowdfunding. Do not keep re-adjusting your goals to an extent that backers think you don't know what you're doing.
Organic Social is in no way affiliated with any of the crowdfunding platforms mentioned here. All the information provided here is of general nature and may or may not apply in your scenario. If you wish to involve in crowdfunding based on this information you are to do so at your own risk. Organic Social or its members will not be responsible for any failure or success of crowdfunding campaigns based on the advises in this article. We recommend taking professional advise for design and execution of crowdfunding campaigns.